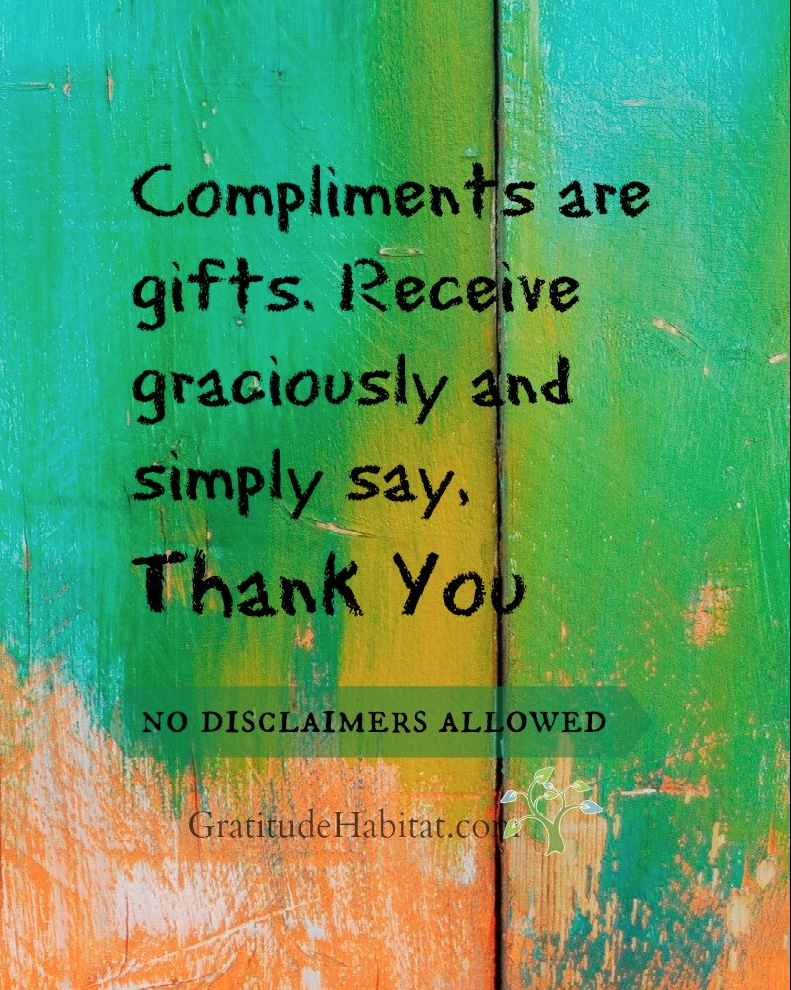 Today, my youngest daughter taught me a lesson. It is one I continually struggle with. We both sang tonight at the Methodist Church. Our community is pretty amazing. They several things a year where different churches get together and share with each other our talents, our service, our love. It is a very fulfilling experience for me. I love meeting other people and making new friends.
We sang the song, "Not Too Far From Here". I struggled with it a bit as it was a higher range than I like and I have been so tired that my voice is struggling a little bit. She did amazing on all her solo parts and also on our duet parts. I was so very proud of her and made sure that I told her so. She told me how happy she was to sing with me and how good I sounded. I told her that I wasn't that good, but she was amazing.
She looked at me and said, "Mom, you need to just take the compliment. I mean it. You are amazing and you just need to accept it." She caught me a little flat footed there. I wasn't expecting the wisdom in her speaking. But, I have thought about it a lot tonight, and she is so right. I need to learn to accept a complement. I need to trust that the person being kind is not lying. They mean it. I need to simply say "Thank you," no matter what my personal mantra is telling me.
Only when I learn that, will I maybe be able to start to build my self esteem up. Only then will I over come the incessant need to un-compliment myself.
I love the idea that compliments are gifts. My sweet daughter gave me a wonderful gift by loving me enough to accept me and want to sing with me today. What a loving and kind thing to do. Somebody's hurting, not too far from here. I am going to work on giving more compliments and meaning them as much as my daughter did.

NOT TOO FAR FROM HERE
Somebody's down to their last dime
Somebody's running out of time
Not too far from here
Somebody's got nowhere else to go
Somebody needs a little hope
Not too far from here
And I may not know their name
But I'm praying just the same
That You'll use me, Lord
To wipe away the tears
'Cause somebody's crying
Not too far from here
Somebody's troubled and confused
Somebody's got nothing left to lose
Not too far from here
Somebody's forgotten how to trust
And somebody's dying for love
Not too far from here
It may be a stranger's face
But I'm praying for Your grace
To move in me
And take away the fear
'Cause somebody's hurting
Not too far from here
Help me, Lord, not to turn away from pain
Help me not to rest, while those around me weep
Give me Your strength and compassion
When somebody finds, the road of life too steep
Somebody's troubled and confused
Somebody's got nothing left to lose
Not too far from here
Somebody's forgotten how to trust
And somebody's dying for love
Not too far from here
Now I'm letting down my guard
And I'm opening my heart
Help me speak Your love
To every needful ear
Someone is waiting
Not too far from here
Someone is waiting
Not too far from here